10.31.2005
It's Monday... and time for
Monday Madness
1. Name 1 comedy movie you've seen.
The Oddfellows - with Walter Mathau
2. Name 2 black and white films you remember seeing.
When I was a kid most movies were in black & white! The ones I remember most starred Humphrey Bogart, Gene Autry, Roy Rogers & Dale Evans... and on and on.... titles? Hmmmmm!
3. Name 3 dramas you thought were worth watching.
On Golden Pond... The Bridges of Madison County... hmmm. Actually this is tougher than I expected... I guess I don't watch many movies.
4. Name 4 television shows you watch on a regular (or semi-regular) basis.
Survivor... Grey's Anatomy... Restless Housewives... Boston Legal (not necessarily in order of preference.) Okay, I'm a couch potato.
5. Name 5 things that, in your opinion, are advertised on television too frequently.
If I name them I'll get spammed with undesirable comments, etc. but will try to get around that with other words. Items that enhance s**ual performance... class action lawyers... prescription drugs... loan companies... overpriced kitchen gadgets.
H

a

p

p

y

H

a

l

l

o

w

e

e

n

!
Don't forget to read my entry from last night... just below this one.

Boo!
10.30.2005
Happy Hallowe-e-e-e-e-en!!!
OttO and I went to the Dow Gardens yesterday! You have no idea how much this meant to me. This was the sort of trip I've been missing out on since my life has changed. It's like... you don't like to go alone, you know? The day was perfect... lots of sunshine and almost no wind whatsoever! A light weight sweatshirt was almost more than I needed for the temperature.
Nat & I both got lots of great shots and I might share more of them later, but I had to share the frazzled jack-o-lantern with you first. We noticed him sitting next to a computer monitor when we were on our way out at closing time. The young man at the desk turned the light back on so we could get a better photo. Ya know, now that I think about it... every person I've ever met at the Dow Gardens is just darn good people!
Have a lovely -
- Halloween!!! Heee-heee-heeee!
10.26.2005
Sad but true...
Nutcases on the internet are invading our blogs now!
I've already blocked comments on one of my blogs because of so much spam in the comments section! Are they working on our Hello photo input now? Trying to upload a photo from Hello - I received the message:
Error:com.google.blogger.exceptions.RateLimitingException: For
anti-spam verification purposes, please login to Blogger.com and create a post
on your blog. You will need to solve a CAPT

Well here's the photo I wanted to share. It's a picture of my view from the kitchen window. Isn't it beautiful? How could anybody have a bad day with beauty like this right in their own backyard?

I was able to share my photo by using the 'compose' mode of blogger. I actually like Hello better only because it frames the photo for you... which does add a nice touch.

I accidentally erased part of that quote above but what it means is you have to type in characters seen in a picture before you can publish to your web. I guess many of today's kids have more time than they have brains because they sure like to cause havoc for no apparent reason on the internet. Bye for now... I may try again later!

10.25.2005
Warm is a good thing...
...and I'm warm!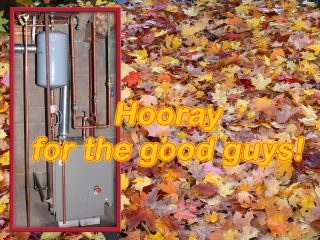 What a difference a day makes. The guys from
Answer Heating and Cooling
showed up bright & early yesterday, promptly at 8:00 a.m. while I was still having my morning coffee.
Replacing a boiler that was in place since late 1960 takes more talent and determination than just plain ol' installing a new one... and these guys are wonderful! What a team. Answer depends on referrals for their business and they deserve your business! When I told the sales manager I had no heat at all - just a little portable electric - he made sure I would not have to wait. Now I can get back to the business of living
instead of spending my time keeping warm!
What's happening? I'm back to working with my friends on the 'homeowners fairness' legislation. I guess I'm now included in the class action suit with the litigious weirdos that love to sport their skull & crossbones t-shirts and signs. I have my own version of their sign. I created this version based on observation of the species...
Lone Tree Council
.
These people are complaining about the vague possibility of minute amounts of a dangerous chemical existing in their yards because of
historical
and
archaic
manufacturing methods. The company they (I guess I mean we, although against my will) are suing discovered the means for even measuring down to quantities in parts per trillion... and cleaned up their act long ago. I have personally observed two female members of the original 7 litigants, after a performance they put on for the news media, purposely ingesting large known quantities of that and other chemicals even more dangerous to their health. Right! They were having a cigarette!
What else is happening? I'm planning for getting my cell phone replaced... still an active member of two computer clubs... currently planning for a big Thanksgiving feast to include all of my wonderful big family who can possibly fit it into their busy schedules. Let me know, people!
10.23.2005
Daisy Mae was missing this morning...
when I woke up she was nowhere to be seen. I called her; she didn't come. She is usually either sleeping on a rug in the bathroom or on her tower. Why should I worry so for a cat? I don't know but I certainly was relieved when she meandered into the room after I had my breakfast!
I had to cancel my Sprint cellphone service today. The phone was messed up after a power outage on Friday. I was charging the phone at the time... the outage was erratically off and on for a very short time but that's all it took.
I've been looking at changing over to something less expensive anyway since I hardly ever use the cell but it sure gives me a feeling of security when out and about. I've been reading about prepaid cell phone service at
CNet
and so far it looks like Sprint's 'sister company' Virgin Mobile offers me what I want.
Hopefully I can quit carrying my little electric heater around with me tomorrow. The crew is scheduled to arrive at 8:00 or 8:30 a.m. to install the new boiler for my heating system. It's a Lennox so it's got to be good, right?
Now for a bit of
Monday Madness...
1. diamonds or pearls?
I wear a diamond ring but am really a simple daisies and costume jewelry sort of woman.
2. paperback or hardcover books?
Paperback - easier to share instead of accumulating.
3. carpet or hardwood floors?
Carpet!!! I've had both and carpet is easier.
4. dogs or cats?
Cats! I like dogs too but cats are easier to care for.

5. fluffy or firm pillow?
Firmly fluffy???
6. fine point or medium point pens?
Fine point.
7. clocks a little fast or on time?
I try for on time.
8. mahjong or spider solitaire (or other)?
Spider!
9. wall calendar or desk calendar?
Both plus my Yahoo calendar.
10. 'Survivor' or 'The Amazing Race?'
Survivor!!!
10.17.2005
View from my window...
Hello Moon!
Am I really seeing the actual variations on the moon - the plateaus and valleys? I took this photo last night while watching television. I would have shown Frank the picture and asked him that question. He would have had an answer.
No I am not sad just... empty, sort of. I told my friend Mary that I did all my crying the first day... and the screaming. Now I am, if not content, at least reconciled to my new phase of life. Mary said perhaps I feel this way because Frank & I had such a close and positive relationship... not that we were always happy, but because we were good friends.
Now for a bit of
Monday Madness
Which one?
1. Lemonade or Iced Tea?
Iced Tea - Bigelow green tea with lemon or mint
are my favorites, but I like an occasional Crystal Light Lemondade, yellow or pink!

2. DVD or VHS?
Sadly... I don't yet know how to use either my DVD player or the VCR!!!
3. Gold or Silver?
I like silver but it tarnishes. My wedding ring is white gold.
4. Baseball or Tennis?
I understand the rules of baseball & played in the street as a kid, so I guess baseball is my answer. The sound of a baseball game being broadcast on the radio makes me nostalgic.
5. Spring or Autumn?
Spring brings rebirth and freshens the earth... Spring!!!
6. Diet or Regular?
Diet... I've grown to prefer the taste. Sugar is too sweet.
7. Hearts or Stars?
Doodling, I tend to draw stars more than hearts.
8. Snail Mail or Email?
I like the nowness of email!!! Being a procrastinator, snail mail just doesn't happen with me.
9. Shop: Online or In-Store?
I don't like shopping but in-store works best for me. I like to really SEE what I'm buying.
10. Credit Card or Check?
Credit card - I only use credit cards that give me money back and always pay them off each month. If I can't afford to do that, I don't buy it. The exception is the offer 1 year same as cash or whatever time period. In that case, if I can afford it, I figure out how much my monthly payments are and have it paid off in the timeframe allowed. Why? ...because I was a credit card junky when my kids were very small! I will not let myself go there again.
10.16.2005
Frost Predicted for Tonight in Mid-Michigan
Weather guy is gleefully predicting our weather will reach the freezing point tonight. I've brought in some of my geraniums... they look beautiful inside & add that special touch of color all winter! I just have to remember not to overwater them. It's easy to keep them in a bright place because my home has lots of windows.

I might bring in a couple more plants today and must transplant the sage into the ground. It won't survive winter inside or in the planter box where it resided all summer. The sage is wonderful! I clip and wash a few leaves and tuck them under the skin of my Thanksgiving turkey for a special aroma and flavor! I also use some to rub the inside of ol' Tom, along with some garlic, then throw a few pieces of onion and celery in there. No, I don't stuff it because most of my family likes the dressing a bit crisp so I bake the 'stuffing' in flat baking dishes alongside the bird.

My little $20 electric heater is keeping me warm. I carry it to the bedroom at night and into the living area in the daytime. Getting a second estimate for new furnace - a hot water system boiler - Tuesday next week. I hope they move fast after my decision... or I'll need to buy a second little heater!

10.14.2005
Today I decided to go outside...
because I've been doing 'desk work' all day long!
This morning... took care of 4 more bills... but first I phoned my insurance agent Gee I'm glad I did! She changed my van insurance to 'comprehensive' because I only plan to drive it occasionally... when we put the boat in and when we take it out. I've cut my auto insurance almost in half. She told me just give her a phone call whenever I decide to use it! I recommend Auto-Owners Insurance!!! For autos, homes and even boats.
- Received a phone call with my first estimate on a new furnace. I need a new boiler and a couple of extra peripherals for it. The price? High!!! I have somebody coming over next Tuesday to give me another bid.
Yesterday my right leg hurt - the shin bone... I think. For some reason I thought it might be my shoes causing the problem. Well guess what? It hurt again today and I was barefoot most of the time!
When I went to the post office to mail my bill payments I wore my oldest crappiest walking shoes... an old pair of Dr. Scholl's with extra arch supports in them... and when I got home, walked around the yard a bit taking photos and got my newspaper.... came in the house & the leg no longer hurts!!! It was the shoes! Funny thing... I bought an identical pair of Dr. Scholl's walking shoes a while back and they hurt my right foot - where I have a bunion. So I guess they're not identical after all. I sure am gonna look funny wearing my ratty old ones whereever I go, don't you think?
I missed Survivor last night because I had a computer club meeting. Great meeting, not many showed up for it though... they missed a good one! A young chiropractor talked to us about ways to keep ourselves in shape... at the computer and otherwise. Very interesting information.
Today I discovered I could find out all about what happened on Survivor by going online to http://www.cbs.com/primetime/survivor11/show/ep05/index.shtml - just found out you can also watch videos and all kinds of other stuff about the survivors here. Now I don't feel so bad that I don't know how to use the VCR. (I'll learn though... don't worry.) What I really wanted was to find a place on tv where it might be run again on a different day.
10.12.2005
Jan was here...
...and so were her sisters
...and her brothers-in-law! She blew in like a hurricane; moved like a tornado for a week... and flew off like a bird! We had a great visit. Most of her sisters were able to drop in for a bit of visiting and a lot of hard work - all this immediately after the previous weekend of a bit of visiting and a lot of work with her other sister and
two
three
(I was seeing one of them so often it was like having a husband again)
of the sons-in-law! What can I say?
Thank You Kids!
I Love You!
10.10.2005
Time for a bit of...
Monday Madness!
1. Name one productive thing you accomplished this past weekend.
I parked the van AND the truck in my garage!!!
2. Name two things that you look forward to doing.
1. Spending time with my family... 2. Spending time with friends.
3. Name three things that gross you out.
1. Puke... 2. Creepy crawly critters... 3. Anything slimey.
4. Name four things that you normally do on a daily basis.
1. Wake up in the morning... 2. Eat... 3. Drink... 4. Sleep.
5. Name five things that you own that you think you could get rid of and not miss.
1. My old red sailboat... 2. Set of Brittanica Encyclopedias from the 1960's... 3. most of my knick-knacks... 4. Some kitchen items... 5. Some of the things that belonged to Frank.
What a productive week! From closing down the cottage & bringing home the boat last weekend to cleaning out the garage this weekend... and it continues. Today we'll get the heat going and the boat covered for the winter. What a fantastic family I have. Thank you, God.
10.08.2005
Life is Good...
The Bug is visiting me this week. It's nice having somebody around the house to have meals with... talk if you want and be quiet if you want... help choose what to watch on TV... all that and she likes to help me get things done around the house!

We've been hitting on projects that have lain idle for awhile. Thursday we got rid of a big pile of stuff... took it to the Salvation Army thrift shop. They were glad to get it. We had such a big pile we had to take the van as my Ranger didn't have a big enough space for all of it! First time I ever drove the van - can you imagine? I like it!

Well, gotta go. Jan is already 'on the job' and we have company coming for dinner - Foggy & family.

10.05.2005
Who says you need sons to get a job done after your husband is gone?
When you have daughters like mine...
..there's all kinds of help around!
Here are Mike, Kevin & Richard - getting my boat ready for the trip home, after pulling her out of the water. Today another son-in-law, Windy's husband Dave, will stop by after he gets out of work and position the boat on it's pad in my driveway.
Today Jan arrives and we'll get more things done, including even more help from Otto & her hubby, Emilio. Kevvy & Sharba are coming over to get my furnace going for the winter. A couple of the guys indicated it may need a bit of repair & Kevin's the guy for that job! The way things are going I should be in great shape for the long cold winter. Now all I need is money.
Today I'm feeling...
...
actually I'm feeling loved!!!
I guess there's a difference. Did I tell you I mowed my lawn? Thanks, Rich, for getting that mower going for me.
10.03.2005
It's Monday...
and time for a bit of
Monday Madness
... I will answer number 2 first...
2. What does your computer desktop background look like?
It looks like this:
I'm sure most of you know how to do this. Click on the subject on your monitor screen that you want to copy... in this case it was the screen on my laptop. Open up any of your picture handling programs - I used PhotoShop Elements 2 - and paste it into an empty page. Then of course, save it as a .jpg so you can upload it to your blog.
1. What's on your computer desk?
Right now I'm using my laptop computer desk and all that's on it is my morning cup of coffee on the top shelf, my laptop mouse on the second shelf, the third shelf has a couple of CD-R's and my cable tv zapper. Bottom shelf has a tv guide from the newspaper and a magazine.
3. What's on your agenda for the upcoming week?
a. Internet SIG (special interest group) meeting of our computer club.
b. Visit by 'the bug' aka Jan for a week of 'helping mom'.
c. Windy visit & her husband stopping by after work to park my boat for the winter.
d. Foggy & her husband for dinner.
e. Otto & her husband coming over to work with Jan on cleaning & refurbishing my back deck... it's a BIG one.
f. Mow the lawn one of those days... I can do that now that Rich fixed the lawnmower.
g. whatever else happens to come up... and something will, I know!
While I'm here I just want to tell everybody about one of the newest & greatest ideas for a women's getaway retreat in historic Chesaning, Michigan -
You've got to check out this website! If you are a quilter or scrapbooker, this is the place for you and your friends to get together for a whole weekend of working on your hobby together - at a price that is unbelievably reasonable!
This morning I'm feeling...
... with such a caring and helpful family!